Design of a high-mobility multi-terrain robot based on eccentric paddle mechanism
Robotics and Biomimetics
2016
3:8
Received: 1 March 2016
Accepted: 10 May 2016
Published: 7 June 2016
Abstract
Gaining high mobility on versatile terrains is a crucial target for designing a mobile robot toward tasks such as search and rescue, scientific exploration, and environment monitoring. Inspired by dextrous limb motion of animals, a novel form of locomotion has been established in our previous study, by proposing an eccentric paddle mechanism (ePaddle) for integrating paddling motion into a traditional wheeled mechanism. In this paper, prototypes of an ePaddle mechanism and an ePaddle-based quadruped robot are presented. Several locomotion modes, including wheeled rolling, legged crawling, legged race-walking, rotational paddling, oscillating paddling, and paddle-aided rolling, are experimentally verified on testbeds with fabricated prototypes. Experimental results confirm that paddle's motion is useful in all the locomotion modes.
Keywords
Eccentric paddle mechanismePaddleMulti-terrain locomotion
Background
As learned from realistic search and rescue activities at disaster sites, the mobility of the mobile robot is of the greatest importance [1]. To guarantee its mobility, the locomotion mechanism of the robot should be able to adapt to diverse terrestrial, aquatic, and amphibious terrains. Robots based on single locomotive forms lack such crucial multi-terrain adaptivity which prevents them from being practically used in realistic search and rescue activities.
Recently, hybrid locomotion mechanisms have been proposed toward multi-terrain mobility for mobile robot. Most of them are designated for terrestrial-task-oriented robots, which consist of the following two major groups. The first group includes those robots that are composites by basic motion units such as wheels and legs or those units that act together to provide locomotion. Most of them are articulated-wheeled robots which have wheels placed at the end of the legs, including Shrimp [2], Octopus [3], ATHLETE [4], Hylos [5], Roller-Walker [6], AZIMUT [7] and Robot IMR-Type I [8]. Others have separated legs and wheels that can behave as a legged robot and a wheeled robot cooperatively and simultaneously. For instance, Chariot-II constructed at Tohoku University (Japan) has two big active wheels at the both sides of the body and four legs with three joints at the both ends of the body [9]. ALDURO proposed by Hiller et al. [10] has wheels on the back legs but no wheels on the front legs. Wheeleg [11] has two front legs, each with three-DOF prismatic joints, and two independently actuated back wheels.
Robots in the second group have kinematically synthesized locomotion mechanisms which are multi-functional. For example, Hong et al. proposed a mechanism consisting of two rimless wheels with individually actuated spokes in Intelligent Mobility Platform with Active Spoke System (IMPASS) to travel on uneven surfaces like tracks and step over obstacles like legged vehicles while retaining the simplicity of wheels [12]. Perpendicularly Oriented Planetary LEgged Robot (PEOPLER-II) proposed by Okada et al. [13] uses pairs of legs jointed at a wheel rim so that the leg can fold in walking and unfold in rolling. Steffan et al. presented the idea of cellular locomotion mechanism in [14], where the proposed mechanism generates rectilinear locomotion exclusively through linear actuation of the legs. In [15], the authors discussed a rimless wheel with radially expanding legs, intending to travel over obstacles by expanding the wheel instead of avoiding obstacles. A bipedal robot that combines the rolling, walking, and climbing locomotion was proposed by Shores et al. [16]. Lin et al. proposed a wheel-leg hybrid robot that can change the morphology of full-circle wheels into half-circle legs using a transformation mechanism [17, 18]. To change locomotion mode, robots in this category usually need performing shape alternating procedures.
Several amphibious robots are based on wheels [19] and tracks [20]. Some robots are inspired from natural creatures, such as robot turtle by Low et al. [21], crab-like robot by Wang et al. [22], lobster by Ayers et al. [23], and snake-like robot AmphiBot I and II by Crespi et al. [24, 25]. We also have developed an amphibious snake-like robot [26]. Other robots with novel hybrid mechanisms have been reported as well. For instance, an autonomous amphibious vehicle which can travel on aquatic and terrestrial terrains by using four driven paddle wheels was presented by Frejek et al. [27]. Dubbed Whegs™ IV [28], which is based on Whegs™, has six wheel legs and is capable of walking in a tripod legged gait and swimming underwater.
However, limited by their locomotion ability, above amphibious robots still cannot be applied for search and rescue tasks after tsunami, where multiple gaits on terrestrial, aquatic, and amphibious terrains are required.
We start our effort to develop an amphibious robot that possesses high mobility and high energetic efficiency in complex amphibious environment by proposing a novel locomotion mechanism: eccentric paddle mechanism (ePaddle) [
29
]. The concept of the ePaddle is shown in Fig.
1
. By actively locating the paddle-shaft inside the wheeled shell via independent actuators, motion patterns of the ePaddle can be alternated. Five locomotion gaits (as shown in Fig.
2
) have been proposed in our previous work, three of which are terrestrial gaits, namely the wheeled rolling gait [
30
], the legged walking gait [
31
,
32
], and the legged-wheeled hybrid gait [
33
,
34
]; and two of which are aquatic gaits, named the rotational paddling gait [
35
] and the oscillating paddling gait [
36
,
37
]. The ability to generate thrusts for underwater propulsion has been observed as well [
36
,
37
].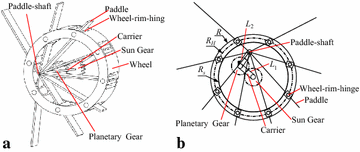 Based on our preliminary analysis or experiments on locomotion modes of an ePaddle mechanism, interesting findings relative to how paddle's motion could improve environmental adaptability have been noticed. In this paper, the effects of paddle's motion on multi-terrain locomotion are focused on. Prototypes of the ePaddle module and an ePaddle-based quadruped robot are fabricated for experimental verification. Experimental results show that paddle-aided motion is useful for generating vectored thrusts in aquatic environment, for improving soil reaction forces on soft sandy terrain, and for enhancing obstacle-negotiating capability on rough terrains.
Results and discussion
Generating vectored thrusts in aquatic environment
Figure
12
shows the experimental results of the rotational paddling modes with the paddle-shaft locating at an eccentric position along the
y
-axis. Several distances between the paddle-shaft and the wheel center were used in the experiments.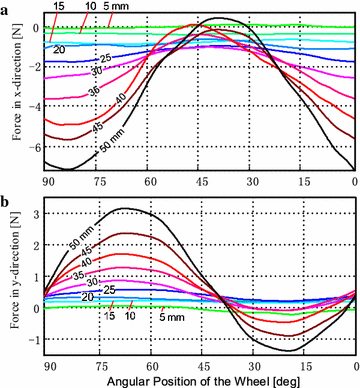 Experimental results in Fig. 12 confirm that asymmetric thrusts can be generated in the x-direction by placing the paddle-shaft at an eccentric position with respect to wheel center along the y-direction. It implies that vectored thrusts are achievable by tuning paddle-shaft's position.
Figure
13
shows measured thrusts for oscillating paddling experiments with various oscillation amplitudes. As shown in the figure, thrusts in
x
-direction have asymmetric magnitudes, whereas thrusts in
y
-direction follow a symmetric way. Based on this result, the capability of generating vectored trusts of the ePaddle module in the oscillating mode is experimentally confirmed as well.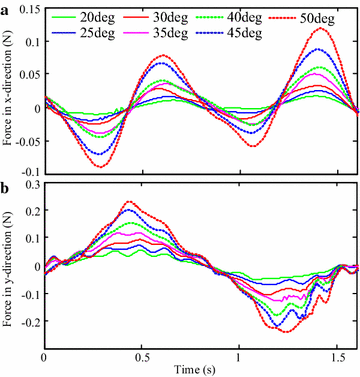 ePaddle-soil reaction mechanics in sandy terrain
As shown in Fig.
14
, the drawbar pull and vertical force of the ePaddle module were measured and compared with the results of a fixed lugged wheel that has the same radius as the ePaddle's wheel.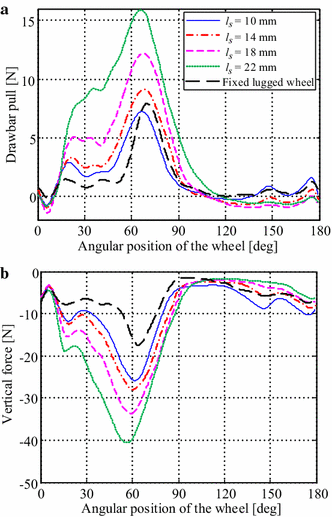 Results in Fig. 14 reveal the following advantages of the ePaddle module rolling on sandy terrain. The ePaddle mechanism is able to insert the paddle into the soil earlier in the cycle and depart from the soil later to increase the drawbar pull and vertical force over a wider range. Compared with the fixed lugged wheel with a maximum sinkage length of 18 mm, the maximum drawbar pull of the ePaddle module at 18 mm sinkage length is increased by 53 %. In addition, the ePaddle mechanism is able to significantly enhance the vertical reaction force on sandy soil.
Obstacle-negotiating capability
Conclusions
In this paper, prototype designs of an ePaddle mechanism and an ePaddle-based quadruped robot have been proposed. By integrating paddles into a traditional wheel mechanism, the ePaddle mechanism is superior to other locomotion mechanisms due to its advantage in locomotion versatility and terrain adaptability.
Principles of multi-terrain locomotion modes of the ePaddle mechanism have been discussed and experimentally verified with the prototypes on fabricated testbeds.
Experimental results have confirmed that paddle's motion, which is actively controlled by locating the paddle-shaft, is useful in all the feasible locomotion modes. For example, paddles can generate vectored thrusts in aquatic environments with two paddling modes. On sandy terrains, paddle's motion can generate larger drawbar pull and vertical forces than traditional fixed-lug wheel. In the wheeled rolling mode, paddles can help the robot to climb high obstacles.
In our future study, coordinating movements among the four ePaddle modules in the prototype robot will be considered to further improve the mobility on rough terrains. Optimization of the locomotion modes taking the energetic efficiency into account will be investigated as well.
Declarations
Authors' contributions
YS proposed the ePaddle mechanism and locomotion modes, developed the controller network, conducted terrestrial locomotion experiments, and wrote the manuscript. YY developed the prototypes, conducted soft-terrain experiments, analyzed the data, and wrote the manuscript. SM designed the study and developed the methodology. HP conducted the aquatic experiments, analyzed the data, and wrote the manuscript. All authors read and approved the final manuscript.
Acknowlegements
This study was supported by "Strategic Research Foundation Grant-aided Project for Private Universities (2013–2017)" from Ministry of Education, Culture, Sports, Science and Technology, Japan. The fabrication assistance from Material and Manufacturing Center of Ritsumeikan University is also gratefully acknowledged.
Competing interests
The authors declare that they have no competing interests.
Open AccessThis article is distributed under the terms of the Creative Commons Attribution 4.0 International License (http://creativecommons.org/licenses/by/4.0/), which permits unrestricted use, distribution, and reproduction in any medium, provided you give appropriate credit to the original author(s) and the source, provide a link to the Creative Commons license, and indicate if changes were made.
Authors' Affiliations
(1)
Department of Robotics, Ristumeikan University, Kusatsu, Japan
(2)
Department of Mechanical and Aerospace Systems Engineering, Tokyo Institute of Technology, Tokyo, Japan
(3)
School of Mechatronic Engineering and Automation, Shanghai University, Shanghai, China